Iran, Afghanistan, Tajikistan to Build Joint Power Line
06-25-2012
june 25 2012
TEHRAN (FNA)- Iranian Energy Minister Majid Namjou announced that Iran, Afghanistan, and Tajikistan are due to build a joint power line after a final agreement on the project.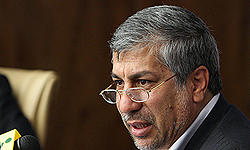 "A common power line among three countries will be built after a final agreement is reached by Iran, Afghanistan, and Tajikistan," Namjou said. 
He added that Iran is in talks with Tajikistan to transit electricity from the Central Asian state to Turkey and other European countries. 
Namjou said on Sunday that exchange and transit of electricity among neighboring countries was a policy of the Iranian Energy Ministry, noting that Iran and Tajikistan can exchange as much as 500 kilovolts of electricity. 
"By importing inexpensive electricity from some neighboring countries, it is possible to transit electrical energy to countries demanding it," he said. 
Namjou added that to connect Iran's power grid to that of Tajikistan a new power transfer line must be built through Afghanistan. 
The three neighboring countries of Iran, Afghanistan, and Tajikistan have made different efforts to further expand their relations. 
Iranian Foreign Minister Ali Akbar Salehi in a meeting with his Tajik and Afghan counterparts in Dushanbe in March underscored Tehran's willingness to further develop all-out cooperation with the two countries, specially in implementing infrastructural projects. 
"Iran is ready to execute [agreements on] linking rail routes and roads, transfer of oil, gas and water as well as connection of power grids between the three countries," he said at the time. 
http: / /english. farsnews. com/newstext.php?nn=9103083528