Fight against malaria stalling and could reverse, warns 2017 World Malaria Report
11-29-2017
SAN FRANCISCO — Between 2015 and 2016, there were 5 million more malaria cases globally, and Rwanda saw the greatest increase in malaria cases, with nearly 1 million people contracting the mosquito-borne disease, according to the World Malaria Report, released on Wednesday. The report also warned progress in fighting malaria has stalled and could reverse.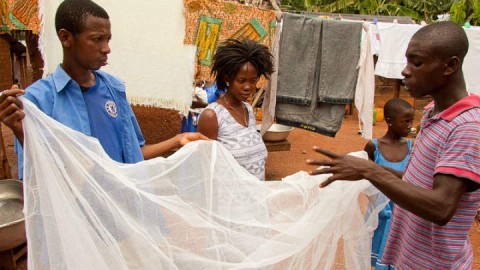 Every year, the study monitors the fight against the deadliest disease in human history. Organizations that advocate for action against malaria say the findings of the 2017 report, which is released by the World Health Organization, necessitate renewed leadership in efforts to eradicate a disease that puts half the world's population at risk.
The report comes a year after the launch of programs to accelerate progress toward malaria control and elimination: the RBM Partnership to End Malaria (formerly Roll Back Malaria) advocacy plan and the WHO Global Technical Strategy for Malaria, as well as the Sustainable Development Goals, with SDG 3.3 focused on AIDS, tuberculosis, malaria, and neglected tropical diseases.
"In recent years, we have made major gains in the fight against malaria," said WHO Director-General Tedros Adhanom Ghebreyesus in a press release provided to Devex ahead of the release of the World Malaria Report. "We are now at a turning point. Without urgent action, we risk going backwards and missing the global malaria targets for 2020 and beyond."
In a call with reporters, the WHO chief talked about the reductions in per capita spending in the midst of population growth in many of the high-burden countries, and said in that sense this plateau of progress is "hardly surprising."
The report highlights how insufficient funding for malaria control and elimination — $2.7 billion in 2016 — results in major gaps in coverage of life-saving tools such as insecticide-treated bed nets and medicines for what is a preventable and treatable disease. Fifteen countries in Africa carry 80 percent of the global malaria burden, and the report highlights the response to malaria in malaria endemic zones with conflict and crises, including WHO's work in Venezuela and Yemen. And while there are known ways to control malaria — which led to a 60 percent decrease in malaria deaths between 2000 and 2015 — the report demonstrates a gap between those countries progressing toward elimination, including Madagascar, which saw the greatest decrease of more than 800,000 cases between 2015 and 2016, and those experiencing a setback in their responses, such as Rwanda.
WHO experts say the global trends do not appear to be the result of drug or insecticide resistance, explaining that the threat of antimalarial drug resistance is low. But other groups differ and say new responses are needed to address the upsurge of malaria in these humanitarian hotspots, the threat of drug resistance in the Mekong region, and insecticide resistance in much of Africa.
"More investment is needed to increase the effectiveness of current tools and hasten development of new tools such as next generation insecticides, drugs, and vaccines to stay ahead of rising resistance," said Altaf Lal, senior advisor on global health and innovation at Sun Pharmaceuticals Industries and RBM Partnership to End Malaria board member.
In its press release on the report, RBM Partnership highlighted how Sri Lanka, Senegal, and Madagascar demonstrated that success is possible. The WHO certified Sri Lanka as malaria free in 2016, and as Devex reported, the key now is vigilance, so that a sense of complacency does not set in, allowing malaria to return as it did when Sri Lanka got down to just 17 cases in 1963. The WHO Global Technical Strategy estimates that $6.5 billion annually will be needed by 2020 to meet its 2030 targets for malaria, and as funding for the disease plateaus, there is a push for more domestic financing, which was key to Sri Lanka's success.
Despite many findings that offer cause for concern, there are several bright spots in this year's report, said Abdisalan Noor, team leader for surveillance at the Global Malaria Program, and lead author of the report. He noted that more countries are moving toward elimination, with 44 countries reporting less than 10,000 malaria cases. There is an increase both in coverage rates of access to tools that prevent malaria and tests for suspected malaria cases in the public health sector. And despite some of the increases from 2015 to 2016, all regions with the exception of the Eastern Mediterranean recorded declines in malaria mortality in 2016 compared to 2010.
"Globally, we can safely say that after an unprecedented period of success, we are no longer making progress, which is supported by the data in this year's report," Noor said. "Identifying what is behind this trend is difficult to pinpoint; in any given country, there may be a multitude of reasons as to why the burden of malaria is increasing. Factors impacting progress could range from insufficient funding and gaps in malaria prevention interventions to climate-related variations. Without more data, it is challenging to identify, with any degree of certainty, a specific cause for the trends we are seeing. What is paramount now is taking this year's malaria report as a wake-up call to stimulate action."
Update, Nov. 29, 2017: Roll Back Malaria is now known as RBM Partnership to End Malaria. This story has also been updated to clarify that malaria is not a virus.