Percent of the Population that Has Hi-Speed Internet Access at Home by Race/Ethnicity
Submitted by

julie dequaindry

on
Source:
http://www.freepress.net/sites/default/files/fp-legacy/lccrdigitaldivide.pdf
Image: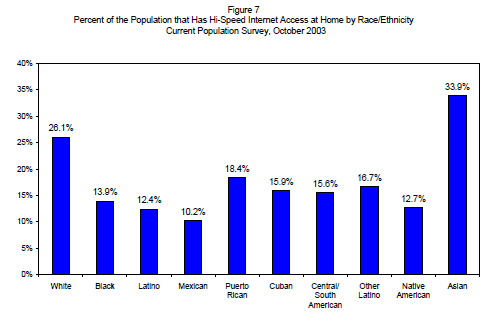 Access to high-speed connections such as DSL and cable modems, represent a new dimension of digital divide. With the rapidity of technological change, very many people who thought yesterday have sufficient technological skills and now find themselves sidelined and  destabilized.
About a quarter of whites and a third of Asians have of broadband access at home, unlike the Mexicans who have the lowest rate.
Only one of out ten Mexican-Americans has a hi-speed connection at home.